Methven Kiri Satinjet drencher ceiling arm
13-7701-BDS
Satinjet Overhead Round Drencher on Ceiling Arm
---
A full-body shower experience, like no other. Exclusive to Methven. Satinjets® colliding twin jets produce over 300,000 droplets of water per second for the ultimate shower experience.
Ultimate immersion Enjoy the ultimate Satinjet shower with ultra wide spray for an immersive full body experience. Suitable for larger bathroom and shower spaces.
Specification
NAME:
Satinjet Overhead Round Drencher on Ceiling Arm
TECHNOLOGY: Ceramic Disc
THERMOSTATIC PRODUCT: No
CERAMIC DISCS: No
WATER PRESSURE: 
Suitable for High/Mains Pressure
Methven Ltd Australia - Guarantee
Methven Australia Pty Ltd ABN 15 104 813 390 of 16 Gipps Street, Collingwood, Melbourne VIC 3066 Australia (phone: 1300 638 483) (Methven) provides the following warranty for all tapware, showers and valves purchased in Australia from authorised Methven resellers for use in domestic residential (indoor) or commercial (indoor) installations (Goods). Commercial installations are all non-residential installations including hotels, motels, gyms, clubs, factories, schools, hospitals, restaurants and aged care facilities.
Please retain your proof of purchase. Ensure your purchase information is safe by registering your product online at www.methven.com/register. 
1. Warranty Periods
Tapware Warranty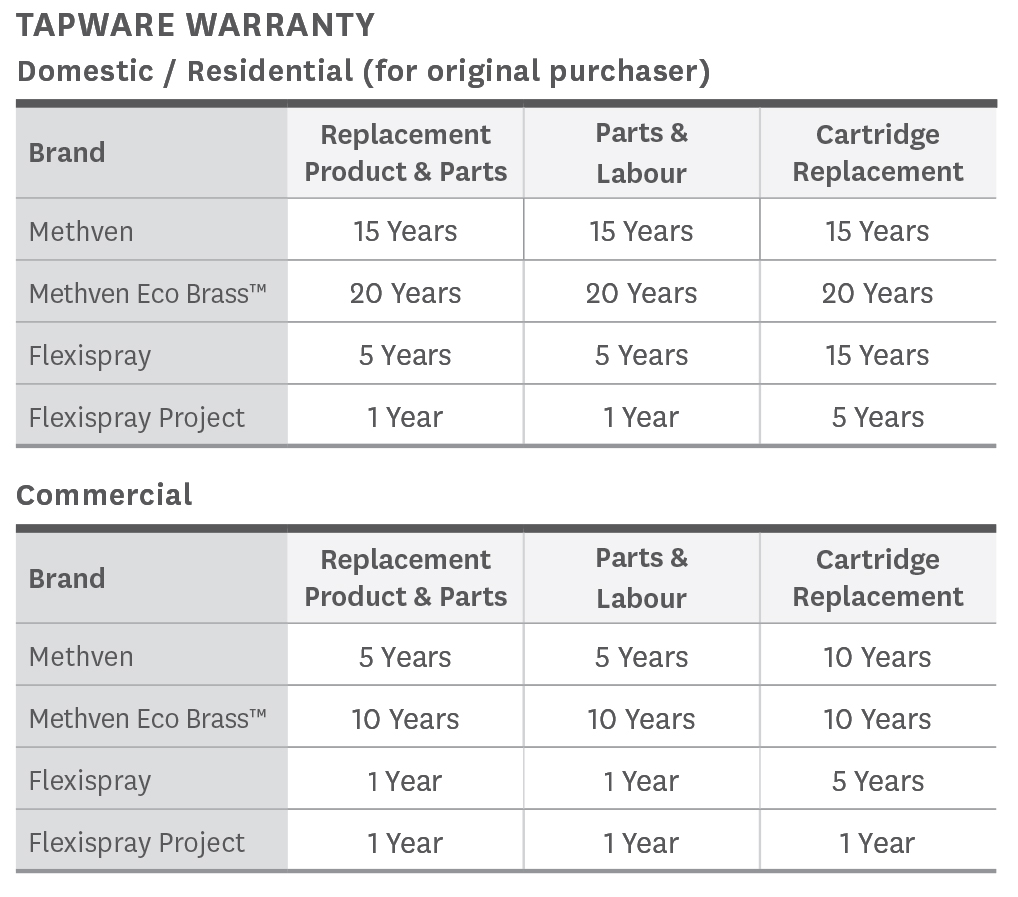 Note: The warranty on the finish of non-chrome products is 3 years from date of purchase by the original purchaser.
Nefa Valves Warranty
NEFA valves are not fit for purpose after a 5 year period from manufacture date (as per coded stamp on each product).
The date of manufacture is marked on the valve, represented by a five digit number. The first two digits of the date of manufacture refer to the last two digits of the year of manufacture. The remaining three digits refer to the numerical day of the year in which the valve was manufactured (for example, 30 June 2007 would be represented as 07181).
Methven will (at its cost) replace any NEFA valve to the original purchaser if it is purchased with less than 12 months remaining of the 5 year expiration period from manufacture date (as per coded stamp on each product).
Proof of purchase must be provided for the replacement to be authorised to the original purchaser only.
2. Warranty Statement (Tapware, Showers and Valves)
(a) If during the applicable warranty period set out in the tables above (Warranty Periods), a Good has a material defect which arose in the course of manufacture then, subject to the warranty conditions below being met, you may submit a warranty claim to Methven by email: customercare@au.methven.com, by calling Customer Care Australia on ph: 1300 638 483 or by mail to 16 Gipps Street, Collingwood, Melbourne VIC 3066. Methven may require you to return the Good, and you must pay the expenses for such return.
(b) Methven will (at its cost) either repair or replace (at Methven's option) the Good. Methven will pay the expense for shipment of the repaired or replaced Good to you.
(c) This warranty is applicable only on Goods purchased and installed in Australia.
(d) Your rights under this warranty are in addition to and do not in any way affect any other rights or remedies that you have under any law which relates to the Goods.
(e) Our Goods come with guarantees that cannot be excluded under the Australian Consumer Law. You are entitled to a replacement or refund for a major failure and for compensation for any other reasonably foreseeable loss or damage. You are also entitled to have the Goods repaired or replaced if the Goods fail to be of acceptable quality and the failure does not amount to a major failure.
(f) Should any warranty claim be made and attended to by a Methven authorised Service Agent and that in the opinion of the Service agent or Methven, the problem was from a faulty installation or use of the products in conjunction with products of another manufacturer or from some other cause other than a manufacturing defect of the products for which Methven is responsible, Methven reserves the right to charge a service fee for each service staff attending the premise where products have been installed.
3. Warranty Conditions (Tapware, Showers and Valves)
The Methven warranty set out in the Warranty Statement above (other than sections 1(d) and 1(e)) is subject to the following conditions, and accordingly shall not apply if:
(a) The Good was not new as at the date of purchase or proof of purchase details (such as invoice, receipt or transaction record) are not provided.
(b) There is a failure to follow Methven's installation instructions, evidence cannot be provided that the Good was installed by a licensed plumber or the Good is used other than in accordance with Methven specifications.
(c) Repair work is performed on the relevant Good by a person other than Methven, its authorized service agents or any plumber who has not received authorisation from Methven prior to proceeding with the work.
(d) Applicable statutes or regulations relating to public health are not observed.
(e) Standards or regulations governing sewerage, plumbing, water supply and gas applicable to the location of the particular plumbing installation are not observed. This includes (without limitation) the Australian Standards (AS/NZ 3500.1 Plumbing and Drainage Part 1: Water services) which specify that water pressure must be limited to 500kpa on any new home, extension or renovation. The recommended continuous operating pressure for tapware is between 150-500kpa (maximum static pressure must not exceed 500kpa).
(f) Harsh detergents or abrasive cleaners are used on any finishes of the Good.
(g) The Good is not installed in accordance with the relevant Australian Standards and Plumbing Codes.
(h) The Good has been tampered with or repaired (other than by or on behalf of Methven) in any way.
(i) The Good has been damaged by misuse, accident or neglect.
(j) The Good has discolouration, corrosion or rusting from 'hard' water and/or other environmental factors.
(k) Adequate access to products, fittings and fixtures to undertake extended warranty repairs is required. Methven will not be responsible for any consequential damage or costs where adequate access to product fittings and fixtures is not accessible.
Answers to our most frequently asked questions.
How can I save money on my hot water bill?
The average shower uses 20 litres of water per minute. A Methven Satinjet shower, with a 14 litre flow restrictor, could save up to 27% of your hot water energy costs, and up to 30% of your total water costs.
Better still, fit your Satinjet shower with a 9 litre per minute flow restrictor, and you could potentially save up to 49% of your hot water energy costs, and 55% of your total water costs. The Satinjet essentially pays for itself in a matter of months.*
*Water flows on mains pressure cylinders vary across NZ. Not all water flows are on mains pressure, and low pressure will produce lower flow rates. The savings indicated are based on a typical mains pressure shower flow, of 20 litres per minute.
How easy is it to upgrade my shower head or handset?
Because the fittings on most showers are universal, it's usually easy to upgrade most showers to a Methven Shower fitting. There are, however, some exceptions with particular brands and products.
Shower Rose
Ensuring that your shower is turned off, use a spanner to loosen off the shower rose. Remove the shower rose. Your new Methven shower rose should simply screw onto this fitting. Ensure that there is a washer in place to prevent any leakage.
Note: this only applies if you are removing a shower head from an arm. It does not apply when removing an arm. In this case threads need to be sealed.
For more information, please contact your local Methven stockist, or contact us directly.
Handset
Ensuring that your shower is off, twist off your shower handset. If this is tight, which may have happened due to a calcium build-up, you may require a spanner for this. Remove the handset. A new Methven Shower should simply screw onto this fitting. Please ensure that there is a washer in place to prevent any leakage.
For more information, please contact your local Methven Stockist, or contact us directly.
My shower head is leaking.
Check that the faceplate is not cracked. If it is, you'll need to order either a new faceplate, if one is available (currently available on Methven Satinjet, Futura or Genesis showers) or a new showerhead or handset. The cracking could be due to the pressure of your shower being too high. In this case a flow restrictor will need be installed to prevent it happening again. Please see Water Efficiency for more information on flow restrictors.
Check if the fitting is threading correctly, and not cross-threaded. A washer may need to be fitted. If the fitting has been cross-threaded, a new showerhead may be needed. Note: you should not use thread tape when fitting Methven showerheads to shower arms.
Your hose or hose fittings may be damaged (if you have a slide shower). In this case you will need a new hose.
Care & Cleaning Instructions
Methven tapware is designed and manufactured for enduring style. To maintain the quality finish, please follow these guidelines:
Choose only gentle cleaning products and don't use harsh abrasives.
Wipe with a soft cloth and water. If necessary, use mild dishwashing liquid or liquid soaps.
To remove stubborn stains or marks, look for a reliable brand of specialist metal cleaner (e.g. a gold cleaner for gold finishes).
Some of my shower's nozzles seem to be blocked.
After a period of time, the nozzles can become blocked with lime or calcium build-up from hard water, which distorts the spray pattern. In this case, simply soak it in equal parts vinegar and hot water. This should dissolve the mineral deposits. Avoid caustic cleaners.
Tips and Advice for Professionals
Single Lever Mixer Tips & Tricks
Single Lever - Mixer leaking under handle
Check that the barrel or cartridge is not loose. Can the barrel be tightened clockwise by hand without stiffening the spout?
Check pressure is below 1000kPa at all times. If not, install Pressure Limiting Valve or Cold Water Expansion valve. Clean and check cartridge seal or replace cartridge.
Are line strainers installed on hot and cold supplies? If not, fit line strainers and new cartridge.
NEFA Temperature Limiting valves (TLV's) Tips & Tricks
Temperature has gone cool
Is valve inlet temperature above 65°C? If not, check water heater temperature.
Are line strainers installed on hot and cold supplies? If not, fit line strainers.
Clean & check valve member. If valve is dated after February '95, the kit #782004 is available.
Temperature fluctuates or knocking noise in valve
Valve is sticking. Clean & lubricate the valve member, or if the valve is dated after Feb.'95, replace valve member with #782004 kit.

 
Nefa NTLV Information
Pressure
Minimum equal pressure = 35kPa
Maximum pressure = 1000kPa
Flowrate at 35kPa = 20l/m – this is 35kPa at the valve – we recommend valves are installed as low as possible on 35kPa installations

Temperature
Cold = 5 - 20°C
Hot = 65 - 80°C
---
We Also Recommend
You save 18%